Welcome to the Munich Shakespeare Library!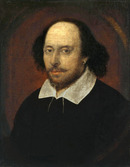 The Munich Shakespeare Library is a research library devoted to Shakespeare and his contemporaries. It is the only library of its kind on the European continent. We welcome anyone with research interests in Shakespeare and the English Renaissance.
PLEASE NOTE: due to ongoing contruction work in the building and coronavirus containment measures, the library remains closed to the public until further notice. We expect to re-open in time for the winter semester 2021/22.
The Shakespeare Library is a reference library. However, loans are possible until we re-open for in-person research. Members of LMU may check out up to five books for up to a week. Please email shak.bib@anglistik.uni-muenchen.de and specify which titles you require. We will get them ready for you and specify a time for collection. Please note that you will have to leave a valid identity card with us for the duration of the loan. Both readers and library staff are required to wear an FFP 2 mask during pick-up.

News
Find up-to-date information on our News Page.
Holdings
The library aims to acquire every item relevant to the study of Shakespeare and the early modern age. It also holds a number of supportive collections. Read more...
Find us
The library is located in central Munich. The closest underground station is U3/U6 Universität. Read more...