Welcome to the Munich Shakespeare Library!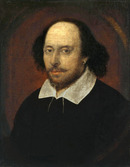 The Munich Shakespeare Library is a research library devoted to Shakespeare and his contemporaries. It is the only library of its kind on the European continent. We welcome anyone with research interests in Shakespeare and the English Renaissance.
Workspaces can be reserved via the university library's online booking system. Terms and conditions of library use during the Covid-19 pandemic apply.

Loans are normally possible over the weekend and overnight. Please check our Loans Page for details. Readers wishing to make a loan should always book a workspace.
!!PLEASE NOTE!!
Due to major construction work in the building the library will be closed until 31 May 2022. We sincerely regret the inconvenience this causes our readers. Loans are possible; please check our 'Loans' page for details.

News
Find up-to-date information on our News Page.
Holdings
The library aims to acquire every item relevant to the study of Shakespeare and the early modern age. It also holds a number of supportive collections. Read more...
Find us
The library is located in central Munich. The closest underground station is U3/U6 Universität. Read more...