Welcome to the Munich Shakespeare Library!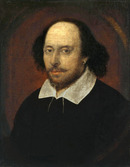 The Munich Shakespeare Library is a research library devoted to Shakespeare and his contemporaries. It is the only library of its kind on the European continent. We welcome anyone with research interests in Shakespeare and the English Renaissance.
Opening times: 10-5 during term time, 10-4 during the semester break.
Please note: On Friday 2 December the library will be closed for a film shooting. Weekend loans are possible from Thursday 1 December at noon.

Holdings
The library aims to acquire every item relevant to the study of Shakespeare and the early modern age. It also holds a number of supportive collections. Read more...
Find us
The library is located in central Munich. The closest underground station is U3/U6 Universität. Read more...
Announcements